Washington Electric Cooperative, Inc., is a member-owned electric distribution cooperative serving more than 10,500 rural customers in southeast Ohio. As a Touchstone Energy® Cooperative, we are part of an alliance of more than 700 cooperatives in 46 states which deliver power to more than 16 million consumers.
Washington Electric Cooperative's mission is to improve the quality of life for our members and community by safely and responsibly delivering reliable electric service, innovative energy solutions, and superior member service.
In the early 1900s, electricity was a luxury available only to people living in cities or well-populated areas. In those days, for-profit utilities had deemed it unfeasible and unprofitable to extend their power lines into the rural countryside. But in 1935, President Franklin D. Roosevelt issued an executive order creating the Rural Electrification Administration (REA), and the Rural Electrification Act was enacted on May 20, 1936. Deemed one of the most important pieces of legislation of the New Deal, the act allowed the government to provide federal loans for the construction of electrical systems in rural parts of the United States.
In 1940, a group of farmers obtained an REA loan and organized Washington Electric Cooperative, Inc. The first memberships were issued for $5.
Washington Electric Cooperative, Inc., now serves more than 10,500 accounts with a system that consists of 1,760 miles of line across six counties in Southeast Ohio. Just as it was in our beginning, our goal remains to provide members with safe, affordable, and reliable electricity to power their lives.
Our service area includes portions of Washington, Noble, Monroe, Morgan, Athens, and Guernsey counties in southeast Ohio.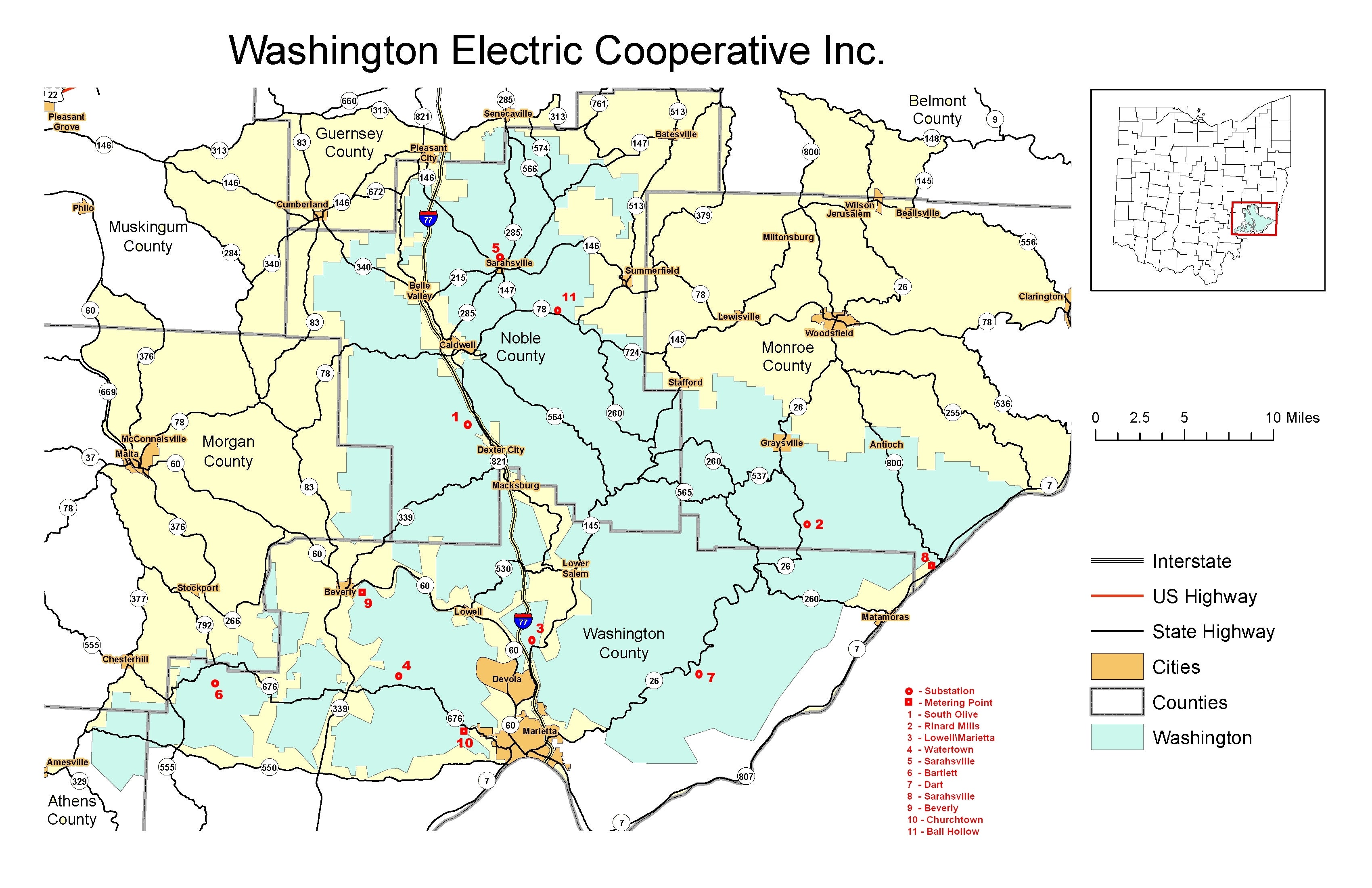 As a not-for-profit cooperative, Washington Electric is owned by the people we serve, and our member-consumers have a say in how we operate. Our policies and financial goals are set by a seven-member board of trustees elected by member-consumers in an annual election.
Washington Electric Cooperative also returns money to its member-consumers in the form of capital credits. These credits are earned based on the amount of electricity members purchase each year. To date, Washington Electric Cooperative has returned more than $1.7 million to our member-consumers.
While Washington Electric is locally owned and governed, we are also a member of Ohio's Electric Cooperatives, an alliance of 25 electric cooperatives across the state. Together, we own Buckeye Power, Inc., the generation and transmission cooperative that supplies power to all of Ohio's electric co-op consumers.  Benefits of Washington Electric's participation in these organizations includes idea-sharing, cost reductions, and backup support when needed during large power outages.
Buckeye Power, Inc., formed in 1959 and based in Columbus, Ohio, is the generation and transmission cooperative that is owned by and supplies power to Ohio's 24 electric distribution cooperatives, as well as Michigan-based Midwest Energy & Communications.
Buckeye Power owns a diverse portfolio of base load and peaking facilities, equipped with best-in-class environmental controls. Coal is the main source of power, followed by natural gas and renewable resources. The Cardinal Power Plant, a coal-fired power station near Brilliant, Ohio, is among the cleanest units in the world.